Gabriel: How Saving One Calf Changed an Entire Community (Hardcover)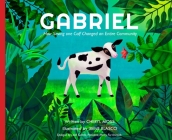 Description
---
The first in a trilogy of children's books telling heartwarming, age-appropriate, stories with captivating illustrations, about a young girl Claire, a veal calf Gabriel she rescues, and their journey to change the world we live in.

Gabriel is a beautifully illustrated and engaging story of a young girl named Claire and her rescued veal calf named Gabriel. Claire grew up in a time when people turned off their feelings toward animals and ignored the damage being done to our planet. Mother Nature sent a warning to the adults as the climate changed and a deadly virus engulfed humankind. Our young protagonist Claire takes matters into her own hands rescuing a veal calf from certain death. Through Claire's journey to save her beloved Gabriel and the planet, our young readers learn about love, compassion, and making good choices. Claire's brave and bold decision teaches and inspires her parents and humanity—captivating young readers and everyone that reads Gabriel.
About the Author
---
Cheryl Moss understands the unconscionable misuse and exploitation of animals and the impact on our environment and pandemics. She believes in creating a children's book series about alternative ways of thinking and living to foster fundamental change. With her husband, she created the non-profit Let's Share a Dog, whereby lonely people could be connected with busy people in their own neighborhood through the mutual love of dogs. She has written two books, Jenny the Magical Dog Next Door and Jenny Saves the Day. Cheryl is a staunch animal activist and vegan who resides in Las Vegas, Nevada.

Irene Blasco is a Spanish illustrator, designer, and painter based in Valencia, Spain. Taking an intuitive approach, she primarily works with digital techniques in a versatile style that accentuates her use of color. She loves photography and since 2010 has taught art workshops for children. Her work has been recognized with prestigious awards as the Bologna Ragazzi Digital Award in 2013 for her interactive storybook Rita the Lizard. Irene is also the winner of the LIBER 2021 Illustration Award.