Why a Daughter Needs a Dad (Hardcover)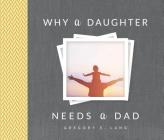 $12.99

Order now - Usually Ships in 1-5 Days
Description
---
From the New York Times and USA Today bestselling author, Gregory Lang! The perfect gift of love or a sweet keepsake for a daughter of any age to show why Dad is so amazing!
In this touching book, author and photographer Gregory Lang beautifully illustrates the depth of love, support, and guidance that fathers provide to their daughters. Through inspiring quotes, heartfelt reflections, and stunning photographs, this book is a reminder of the unique and irreplaceable bond shared between a father and his daughter.
A Celebration of the Father-Daughter Relationship: Delve into the beauty of the father-daughter relationship and celebrate the unconditional love, wisdom, and strength that fathers impart throughout their daughters' lives.
Heartwarming Quotes: Discover a collection of heartfelt quotes that beautifully express the depth of a father's love for his daughter.
Captivating Photography: Immerse yourself in a visual journey of stunning photographs that capture cherished moments, shared adventures, and lifelong memories between fathers and daughters.
Gift-Worthy Presentation: Why a Daughter Needs a Dad is elegantly designed and presented, making it a perfect gift for fathers, daughters, and anyone who cherishes the beauty of this relationship.
Emotional Reflections: Accompanying the beautiful imagery, the author provides heartfelt reflections on the importance of a father's role in a daughter's life.
For new dads, fathers-to-be, or for that perfect father-daughter moment at birthdays, Father's Day, and other special occasions, this sweet storybook celebrates how a father is always there for his little girl. reminding her to be artistic, thoughtful, honest, and smart, but most of all, true to herself.
About the Author
---
Gregory E. Lang is the New York Times bestselling author of more than 20 books, including Why a Daughter Needs a Dad, Why a Daughter Needs a Mom, Why a Son Needs a Dad, Why a Son Needs a Mom, and Why I Love You. He lives in Georgia.