The Civil War Soldier: Includes over 700 Key Weapons, Uniforms, & Insignia (Hardcover)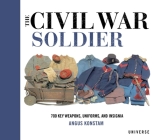 $9.98

Order now - Usually Ships in 1-5 Days
Description
---
Specially commissioned photographs of more than 700 key artifacts and military equipment bring to life the experiences of Union and Confederate soldiers of all ranks, by exploring the uniforms, weapons, and objects carried by soldiers on both sides. There is an abiding fascination with the Civil War. What personal items did soldiers carry in their haversacks? How did the weaponry differ between ranks? What did the design of each unit's flag symbolize? This is the ultimate quartermaster's locker room—a full-scale armory of detailed information. 
This is an essential work for those who wish to gain an in-depth understanding of military life during one of the greatest conflicts in history—especially anyone interested in the widely popular Civil War reenactments. This book offers unique and detailed information about the personal items that a typical soldier carried along with weapons and other military necessities. Selected for their importance to the outcome, the artifacts include Union and Confederate guns, swords, artillery, uniforms, medals, equipment, and much more. Each item is described, photographed, and discussed in detail, making this a superb reference that brings the war to life.
About the Author
---
Angus Konstam is a distinguished historian and author of many Civil War books, including Duel of the Ironclads, The Pocket Book of Civil War Weapons and The Pocket Book of Civil War Battle Sites. He was also the general editor of The Civil War: A Visual Encyclopedia. He served in the Royal Navy and was the chief curator of the Mel Fisher Maritime Museum in Key West, Florida.